Who can help?
You can! A young German woman who lives on the Big Island Hawaii needs your immediate help. Our plea is addressed to all compassionate individuals or concerned groups who can and are willing to help Silka with her much needed care. Please help us raise funds for air ambulance service and bring our seriously ill daughter back to Germany.
What happened?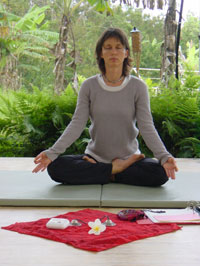 At the end of 2008, Silka became infected with a rare tropical disease - the so-called Rat Lungworm Disease (Angiostrongulus Catonensis). This disease occurs in Southeast Asia, the Philippines, Australia, Tahiti and Hawaii. Human infection occurs via snail slime after these mollusks are infected through contact with diseased rats. Eating vegetables or fruits with snail slime on them transmits parasites to the human body. The parasites attack and inflame the nervous system, the spinal cord and the brain.
The disease is extremely rare and difficult to detect. On three occasions, medical doctors in Hawaii refused to treat her. Silka was at last admitted to Hilo Hospital with a friend's help on December 6th. Even then, because the Rat Lungworm Disease was not properly diagnosed, she was merely treated with morphine to relieve her of her severe pain and with antibiotics in an attempt to counteract her unknown infection.
In tremendous pain, Silka was taken into hospital in Hilo on December 6th 2008. At that point, she was still conscious and able to walk. As stated before, her condition became steadily worse. She became paralyzed before she lapsed into a coma. On December 30th, we the parents of Silka received a call from her friends in Hawaii telling us that our daughter was facing a life-threatening illness. We left Germany the very next day, January 1st. On arriving in Hawaii, we began the most difficult ordeal of our lives.
With the diagnosis still inconclusive through mid-January, Silka's doctors continued to try various antibiotics and prescribed Prednisone to counteract her inflammation. Although three days of hemodialysis at the Honolulu Hospital seemed to be a promising procedure, it actually worsened her condition. At the end of January, a ray of hope appeared when Silka opened her eyes for the first time, and we thought she recognized us. On January 22nd, her antibiotics were even discontinued. Although she was still in a coma, we had hope. Her breathing had become more stable, and although she still needed a respirator, it was only for a little extra oxygen. Upon transfer to another ward, though, Silka contracted pneumonia, her breathing again broke down, and she suffered a short cardiac arrest. Again, she was transferred to intensive care and needed a respirator to stay alive.
Once more, a ray of hope appeared. Silka began to react to visitors, seemed happy and even smiled sometimes. She began to move her fingers, even her legs and big toes. On March 10th, she was transferred again to another ward. The next day, she developed a high fever, contracting pneumonia with cystitis. Antibiotics were once more required to overcome her pneumonia.
As of May 1st, Silka's American health insurance ceased to pay for her care. There would be no doctors looking after her, and general ambulatory care would not be sufficient. Nursing care alone would also not be sufficient since nurses are not trained to deal with comatose patients without the help of physicians. When we attempted nursing care only, her nurses sometimes would not even talk to her. Rehab through the Hilo Hospital is also not an option because her condition remains so acute. As it is, Silka remains fully hospitalized to benefit from the complete care that she requires, and we her parents are forced to cover the cost of hospital treatment at a rate of $1500 per day.
The only chance for our daughter to become healthy again is for her to be transferred to a specialized rehabilitation clinic. Only in Germany would she have the health insurance coverage and social security available to fund such care. That is why it is most urgent to transfer Silka to the German Rehab Clinic in Dresden-Kreischa, where we her family would be able to look after her with costs defrayed. Please help us to raise funds for her necessary transport back to Germany!